Cape Royale (御丰轩)
Last Updated: 

2nd November 2022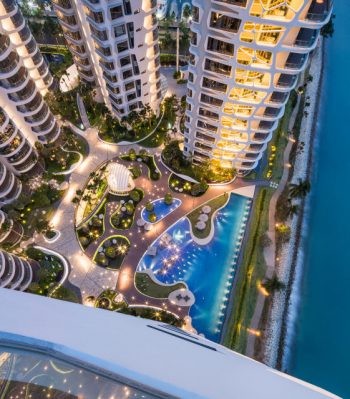 Price Starting From $2029 psf!
Book ADVANCE appointment to view our actual show suites now.
Strictly by appointment only.

Book Appointment With Us Now to View Actual Unit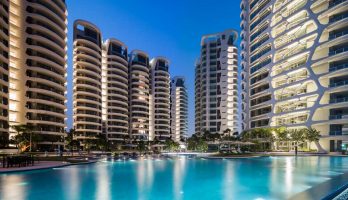 Cape Royale is developed by Ho Bee Land Limited ("Ho Bee") and IOI Properties Group Berhad ("IOI Properties") . It was completed in 2013 and all 302 units in the developed had been fully leased out in the initial years.
Founded in 1987 as a real estate company, Ho Bee is the undisputed pioneer developer in transforming a large part of Sentosa Cove residential enclave. Out of the nine luxurious condominium in Sentosa Cove, five of them were developed by Ho Bee. It was subsequently listed in Singapore Exchange (SGX) in 1999 and further expanded globally into China, Europe, United Kingdom and Australia. Ho Bee's past track records in Sentosa includes The Berth by the Cove, The Coast at Sentosa Cove, Turquoise and Seascape.
IOI Properties is a Malaysia's top real estate developers with solid track records and reputation over the last 3 decades in the property industry. It was publicly listed on Malaysian Stock Exchange in 2014. In Malaysia, IOI Properties was highly recognised as the renowned developer in building self-sustainable suburban townships in Johor, Penang as well as Klang Valley.
Since 2007, it has successfully established its footage in Singapore's property market and developed or co-developed 5 residential projects and integrated mixed project such as Seascape, Trilinq at Clementi and South Beach Residences.
Cape Royale pricing is starting from $2200 per square foot and offers large format 3- and 4-bedroom and penthouses.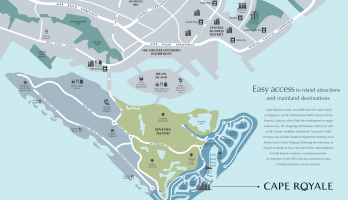 Cape Royale is situated at the southern part of Sentosa Cove, after Marina Collection and next to Seascape at 11 to 25 Cove Way, District 4 of Singapore. It was the last plot of high-rise residential land launched for sale by Sentosa Cove Pte Ltd in year 2010, a government statutory board overlooking the whole transformation of Sentosa Cove with detailed MasterPlan.
Being situated within the community of world renowned oceanfront resort residential precinct, the only such area in Singapore, Cape Royale Sentosa will certainly fulfilled your dream of oceanfront living with a carefree lifestyle that many will envy of.
Nearby amenities include One Degree 15 Marina Club, Sentosa Cove Village where Cold Storage and 7-11 convenient store are located, as well as Quayside Isle, a marina fronting destination with plenty of F&B choices. All these amenities are within short walking distance from Cape Royale Sentosa.
Transportation wise, there are free shuttle bus available at Sentosa Cove Village that will fetch residents to Vivocity and Harbourfront Bus Interchange at an interval of either 20 minutes during peak hours or 30 minutes for non-peak hours.
For private car owners, Vivocity is only 10 minutes' drive away while Central Business District and Marina Bay Financial Centre is 13 and 16 minutes respectively. For those well-heeled shoppers, driving to Orchard Road shopping belt is approximately 20 minutes. You can easily explore the surrounding by referring to our Cape Royale location map.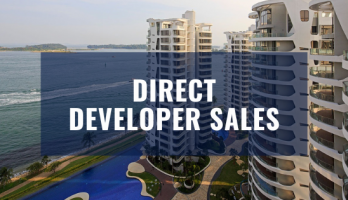 There is no Cape Royale showflat for viewing as this development had been completed in 2013. Instead, interested parties will be treated of viewing two show units on the actual site. There will be two in situ units available for viewing, a 1679 sqft Type A3 3-bedroom and a 2530 sqft Type B2 4-bedroom.
In order to view Cape Royale showroom units, all parties are required to make an appointment at least one day in advance in order for us to make necessary manpower arrangement. All last minute request of viewing or walk-in will strictly not be entertained.
To make an appointment, you can simply fill up our online appointment and our professionally-trained salesperson will contact you within an hour. Alternatively, you can call our hotline at +65 6100 1116 to make an advance appointment over the phone. In order to avoid disturbance to the residents in Cape Royale Singapore, there is only limited viewing slots at any given day. Therefore, kindly make your Cape Royale showflat appointment in advance.
As this is a private treaty sales between the developer and the buyers, there is NO COMMISSION payable by all purchasers. In addition, you will be assured the BEST PRICE given by the developer with no hidden cost.
Note that Cape Royale balance units charts are only updated once per week. Please call our hotline at 6100 1116 to enquire about our latest available units. Reservation of unit over the phone is possible but subject to developer's final decision.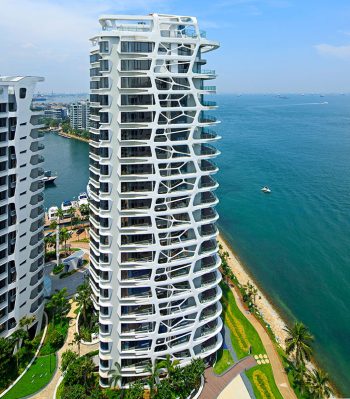 Cape Royale - Seafront Homes Where Dreams Are Made
In Singapore, buyers normally paid a high premium to secure a sea view unit with a development. What if now, you can own not just a sea view unit but a seafront facing unit at a per square foot (psf) that is even lower than current Rest of Central Region (RCR) new launch?
Introducing Cape Royale, a luxurious project presented by Ho Bee Land and IOI Properties that consist of 302 seafront luxury units over 8 towers. These towers vary between 16 to 19-storey high and is the only luxurious project in Sentosa Cove apart from The Oceanfront @ Sentosa Cove that is allowed to build more than 8-storey high.
Out of the 8 towers, the developers are only releasing 4 towers for sale currently with an entry level of $2200 psf, which translate to a total of 168 units. These towers are block 15, 17, 19 and 25 which you can take reference from Cape Royale site plan. As for the rest of the towers, they are currently lease out and might be launched at the later phase.
For a large floor plate 3-bedroom in Cape Royale Sentosa, unit size is starting from 1679 sqft, followed by 1722 sqft and 1905 sqft being the largest 3-bedroom in this project. As for the 4-bedroom, there are 2 unit types for buyers to consider, which is either 2508 sqft or 2530 sqft. Apart from 3- and 4-bedroom, there will be a total of 8 penthouses released for sale during phase 1 which consists of 3-bedroom, 3+study and 4-bedroom penthouse.
Being a world-renowned destination for oceanfront resort living, owning a piece of Cape Royale is a dream to many and is widely considered as a trophy asset. Imagine yourself waking up every morning with the greeting from the sea breeze, it will undoubtedly freshen up your day ahead to handle all sorts of challenges.
Cape Royale, truly a seafront homes where dreams are made.
For more information, you can download Cape Royale e-Brochure and Cape Royale floor plan from the links given here.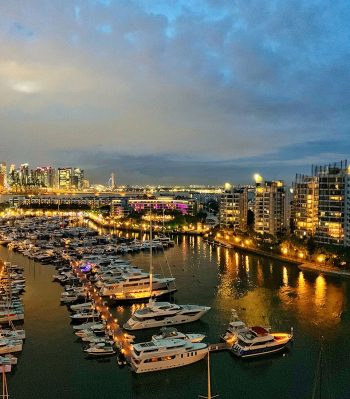 Cape Royale - A Trove of Indulgences
Sentosa Cove is widely considered as one of the world's most sought-after waterfront resort living destination. Back in 1986, the government had approved plans to further redevelop Sentosa Cove into a lifestyle resort residential destination that is for the well-heeled across the world. In 1992, the first MasterPlan was conceptualized in 1992 and approved by Urban Redevelopment Authority the following year. In 2003, the first plot of land was launched for sale, with the last high-rise residential plot being Cape Royale Singapore in 2010.
Many locals have the impression of living in Sentosa Cove where Cape Royale Singapore is residing presences great inconvenience to their daily life. On the contrary, it is widely recognised as a lifestyle destination that is within easy reach to supermarket such as Cold Storage at Sentosa Cove Village and various choices of F&B outlets at Quayside Isle, which are both within short walking distance to Cape Royale Sentosa and a trove of indulgences for the residents to enjoy the carefree lifestyle that they always been wishing for.